Chalet Motor Inn 
242 Bourbong St, Bundaberg
The Chalet Motor Inn is located in the Bundaberg CBD and within walking distance to the rail station, city centre and close to a variety of restaurants.
Comfort Inn Bert Hinkler 
Cnr. Warrell & Takalvan Sts, Bundaberg
The Comfort Inn Bert Hinkler is a 4 star motel comprising 32 rooms with a mix of quality, comfortable standard, deluxe and executive rooms.
Country Comfort Bundaberg 
73 Takalvan Street, Bundaberg
The highly acclaimed Country Comfort Bundaberg is a single storey 4 star complex set in tropical garden surrounding a palm fringed central courtyard and pool area.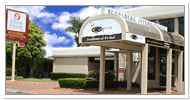 Villa Mirasol Motor Inn
 225 Bourbong Street, Bundaberg
The Villa Mirasol Motor Inn is located in the heart of Bundaberg and is only a short walk to Restaurants, Shopping Centres.