Tours from the Cairns beaches area will take you to see many fantastic places. The main attraction in this region lies just offshore, in the form of the Great Barrier Reef and you can take tours direct from the Palm Cove jetty or you can drive to Cairns and join one of the many boat trip or cruise departing from the Cairns marina. Diving and snorkelling trips are also available and once again, a huge supply of tours operate to the reef from both Cairns and Port Douglas. Tours to the Daintree rainforest and Cape Tribulation will pick up from where you are staying in the Cairns beaches and provide a door to door service.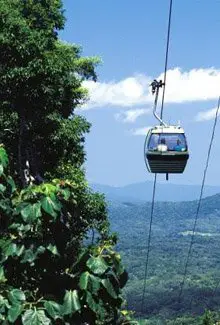 At the southern end of the Cairns beaches region are two of the best tourist attractions in town. The Tjapukai aboriginal display attracts tourists to explore the aboriginal culture and history. Next door is the departure point for the Skyrail. This attraction is a gondola ride which carries tourists from the coastal plain, up the escarpment at treetop level and terminates in the village of Kuranda on the Atherton Tableland. The return journey can be on the rail service which crosses the spectacular rail bridge across the Barron River at the Barron Falls. Many other tours operate throughout the region to special places of interest like The Undarra Lava Tubes, the Curtain Fig Tree, Lake Eacham, wildlife parks and places where the scenery is fantastic.
When you choose to stay in Cairns Beaches accommodation you will find that there are plenty of great tours to indulge in.