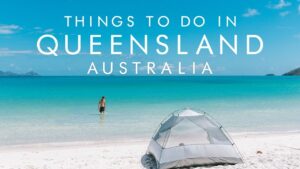 From the always-popular Gold Coast to the incredibly fascinating north of the state, Queensland is the king of family-friendly holidays.
Queensland has iconic attractions for kids to explore some of the great places, including crocodile farms, underground caves, and indigenous cultures that kids can immerse themselves in.
Mapping out all the things to do with kids in Queensland on your family holiday can seem like a tricky task. However, there are some of the best things to do with kids in Queensland to keep them entertained and make some special family memories.
Journey through million-year-old World Heritage-listed rainforest from Cairns to Kuranda is a spectacular journey comprising unsurpassed views of dense rainforest, steep ravines, and picturesque waterfalls.
Travel in historic wooden carriages through breathtaking scenery, and past towering waterfalls, you can make it a fun family day out for all ages. The kids will especially love the train will talk about for years.
This fun-filled space is the perfect place to visit because it is packed with over 1,200 animals such as koalas, kangaroos, tigers, macaws, alligators, and meerkats. Discover the world-famous 'Crocoseum', and let the kids enjoy the water play area while you sit back and observe the team of vets as they save the lives of local wildlife.
Whitsunday Crocodile Safari
Whitsunday Crocodile Safari offers guests a unique Australian nature that can take you to see crocodiles and wildlife in a freshwater wetland habitat. Keep your eyes peeled and camera ready.
Don't forget to cruise the calm waters of the Proserpine River and explore crocodiles. Keep your eyes peeled and camera-ready to capture over 150 of these fascinating prehistoric creatures in their natural habitat.
Whitsunday Crocodile Safari offers a huge barbecue lunch and a traditional billy tea to the visitors.
Dinosaur Trail
A journey along Australia's Dinosaur Trail is a set of amazing landscape and outdoor galleries featuring life-sized bronze dinosaurs that lived 100 million years ago.
Witness Australia's largest dinosaur fossil collection – The Australian Age of Dinosaur which offers unique experiences not available anywhere else in the world. The museum is a home with the most productive laboratories for producing fossils. Visit the laboratories, collection rooms, and dinosaur canyons to see the world's largest collection of Australian Dinosaur fossils.
Explore the Parks
Visit Undara Volcanic National Park, to explore one of the world's longest lava tube cave systems. Young adventurers can also discover Cape Hillsborough National Park. This Park offers a eucalypt forest teeming with wildlife, ancient volcanic rock formations, and tidal pools.
If you want top things to do with kids in Queensland then visit the Gold Coast. Get the thrills from sky-high coasters at Dreamworld, character cuddles at Movie World, or animal encounters at Sea World, there is so much more to do in the theme park.
Reef HQ Aquarium
Explore the wonders of the world's largest living coral reef aquarium without getting wet!
Located in Townsville – Reef HQ Aquarium is home to over 300 species of charismatic marine creatures, including Nemo and Dory. Reef HQ provides will open your eyes to an amazing world with an outstanding Great Barrier Reef experience through education, inspiration, and entertainment. Reef HQ has something for everyone.
Eat Street Northshore
Eat Street is a unique experience created for fun with fascinating views of the city and river. It surrounds 180 dining and entertainment containers that add bright colors to South East Queensland.
Try out the myriad of multicultural food stalls that serve from Japanese pizza to the Spanish-style paella at Street North Shore. Do not miss ice cream walnuts, floss creations, and donut-filled fries.
Eat, shop, play, and explore the beautiful Queensland!