Lady Elliot Island Whale Watching
Humpback whales are often spotted from the beach on Lady Elliot Island as the swim past and encounters with divers from the island are not unknown. The whales are likely to be in this region betwen July and November of each year and nearby Hervey Bay is a gathering place for them.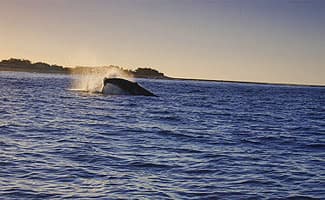 Lady Elliot Island boasts one of the world's most spectacular 'nature calendars': November to February, green and loggerhead turtles make their way up the same beach they were born on more than 50 years ago. February to April – thousands of baby turtles emerge and make their way to the sea. October to April – up to 50,000 sea birds choose Lady Elliot Island as their breeding and nesting ground providing excellent close-up opportunities for photographers and birdwatchers. May to June - Lady Elliot Island boasts excellent water visibility, warmer than the southern states waters are in summer. July to October – look for Humpback whales as they migrate past the island to the Hervey Bay whale watching area off Fraser Island.