Mission Beach - Holidays & Tourism - Travel
Tourists coming to Australia who want to see virgin rainforest, superb beaches, great wildlife and spectacular coastal scenery will love Mission Beach. This unique coastal town lies about one and a half hours drive south of Cairns and is included in the wet tropics region. It is surrounded by a vast region covered with farmlands and sections of beautiful rainforest. Just offshore is an archipelago of beautiful islands, some of which contain superb holiday resorts. Mission Beach is a delightful holiday destination or wedding venue and a place where the wildlife and the beauty of your surroundings is never far away.
This region, which includes the nearby towns of Babinda, Tully and Innisfail is the centre of the wet tropics in north Queensland and the wettest part of the Australian mainland. During the wet season which runs from late November until April, the region can receive over a thousand millimetres of rain. During the dry season Mission Beach is a fabulous holiday destination with prevailing south east winds and a hinterland that will take you many days to explore. As a holiday town, Mission Beach has plenty of resort and apartment style holiday lodgings. It is also on the backpacker circuit with many young travellers coming here to go parachute jumping and white water rafting on the Tully River. Wildlife sanctuaries here feature the beautiful Cassowary which is Australia's second largest bird, and these can often be seen scratching around the edges of the rainforest, right in Mission Beach itself. Crocodiles are common in the rivers and there is a crocodile farm not far away at Innisfail that welcomes visitors.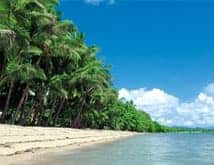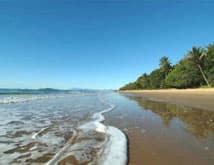 The beach at Mission Beach is unique in itself. It is one of the very few places in Australia where the rainforest meets the sea. For much of its length, rainforest vegetation overhangs the sand presenting a truly beautiful spectacle. There is no surf as the offshore islands protect the beach from wave action. Fast water taxis operate continuous services from the beach to the island resorts on Dunk Island and Bedarra Island which lie a short distance offshore. The beach is mostly lined by an esplanade that has many holiday homes and resorts. In the centre of Mission Beach is a cute little shopping village. All the tourists gather here for shopping and dining out. There is an excellent selection of restaurants and cafes, a supermarket and general shopping.
In recent years Mission Beach has been devastated by cylones. There have been two category five storms which have come ashore right over the town and damage has been extensive. Bedarra Island resort and Dunk Island resort, as well as some of the mainland resorts have been extensively damaged and are now being rebuilt. These cyclones occur during the wet season, so visitors to the region should try to come during the dryer months. Modern weather forecasting does, however, give plenty of warning of impending storms giving tourist plenty of time to move on to a safer location. Don't be deterred from visiting Mission Beach as it is one of the most beautiful places on Australia's east coast.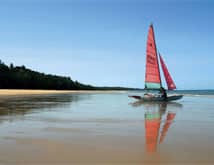 Important Travel Information: