Townsville - North Queensland - Travel & Vacations - Tourism & Holidays
Townsville is the largest city in far north Queensland. Located about four hours drive south of Cairns, Townsville is home to the Cowboys NRL team, the Royal Australian Airforce and the Australian Army regiments. James Cook University chimes in to make Townsville a cosmopolitan City. Just offshore are the tourist meccas of Magnetic Island and the Great Barrier Reef. corporate and holiday lodgings which ranges from beachfront apartments and hotels to backpacker accommodation and covers a wide range of properties. If you want to choose from the wide range of vacation and corporate home away from home style lodgings which can be found on the Strand or in the Palmer Street precinct you will experience some of the best apartment and hotel style accommodation in north Queensland. One of townsville's great features and a gathering place for locals and tourists alike, is "The Strand". The Strand features long relaxing walkways along the ocean beachfront and contains an olympic swimming pool, a huge saltwater rock pool, a stinger netted enclosure for those who like to swim in the ocean, exercise equipment, jetties with fishing paraphenalia, cafes and restaurants as well as a fabulous waterpark for entertaining the kids on a hot day.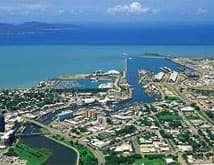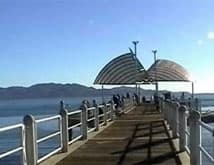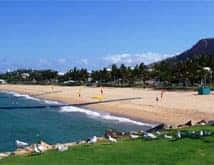 Trips and tours to the Great Barrier Reef and the island resorts on nearby Magnetic Island and Orpheus Island depart daily. The Casino awaits for those with inclination. Some of the most popular accommodation in the area includes such properties as Seagulls resort, Quest serviced apartments, and Aqaurius On The Beach, Grand Mercure Apartments and Oaks on Palmer and Oaks M, also on Palmer Street, being among the most sought after.
Your Townsville holiday should also include the fabulous beaches and the ferry trip to the closest island. Townsville is the jumping of point to fly by seaplane to the sensational degustation island dinner. Spend a few nights in absolute luxury and be tempted with some of the finest dining in Australia. Townsville awaits with a Queensland holiday to suit any family.
A day trip to Paluma River Gorge about 45 minutes drive north of Townsville will take you into a superb rainforest region where you can experience swimming in a cool and rocky mountain creek. If you are lucky you might see one of Australia's beautiful Rifle Birds. Discover underwater life at Reef HQ, the world's best living reef experience with over 100 varieties of coral and 200 species of fish. Book a trip to Magnetic Island where you can go swimming, snorkeling, diving and fishing. Natural rainforest beauty surrounds Townsville, you can fish in the ocean or in small creeks and rivers, bushwalk & swim in crystal clear swimming holes.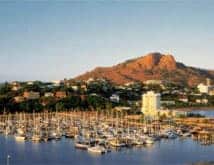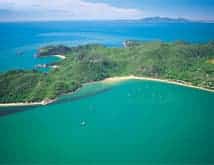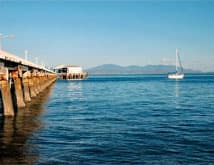 Many Townsville holiday accommodation packages and specials are available from this website. Don't hesitate to ring our office if you are in Australia on our freecall number 1800 815 378 or email us for all of your holiday enquiries.
Important Travel Information: