Hayman Penthouses – Hayman Island Resort
1 + 2 BEDROOM PENTHOUSES
The one and two-bedroom Penthouses reflect a relaxed resort feel, featuring soft, natural textures, cool marbles and rich, warm woods. A large balcony is furnished with an outdoor teakwood setting.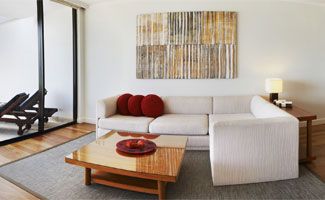 3 BEDROOM OWNER'S PENTHOUSE
This is the premium accommodation offering on Hayman featuring presidential size sitting room, 3 bedrooms, dining area, kitchenette and bar. From 1 April, the Owner's Penthouse includes complimentary launch transfers, full Butler service 24 hours a day, mini-bar, movies and wireless internet, garment pressing and dry cleaning service, and dinner for up to six adults excluding beverages.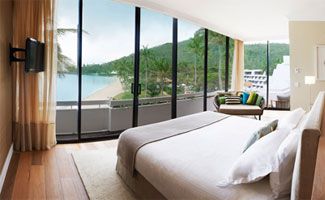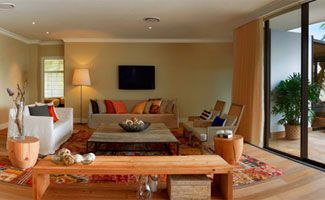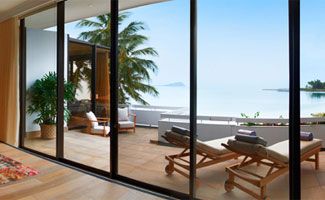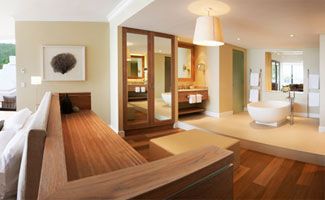 2 BEDROOM DIANE VON FURSTENBERG PENTHOUSE
World-acclaimed fashion designer, icon and philanthropist, Diane von Furstenberg, personally designed the DVF Penthouse on Hayman.
Set against bleach sand coloured walls with vivid white highlights and bleached European Oak timber flooring, the designer space features contemporary Diane von Furstenberg rugs and accessories, presenting a mix of vibrant colours and textures and a selection of Diane von Furstenberg's personal photography.
Contemporary, light and fresh, the 160 square metre interior offers two bedrooms, two bathrooms and a spacious living room, whilst a secluded wrap balcony boasts spectacular uninterrupted views over Hayman Beach to the crystal waters of the Coral Sea and provides seating on Parterre outdoor furniture.
The DVF Penthouse accommodates up to four guests and includes Butler service.