In the heart of the Great Barrier Reef, private Hayman Island offers a spectacular and exclusive backdrop for your wedding, the island has been a popular choice for luxurious weddings for many years with good reason. Lush tropical gardens, pristine white beaches and sparkling blue water combined with the highest standards of service and attention to detail make for an iconic setting your love story.
The InterContinental Hayman Island Resort offer three wedding packages with a fabulous choice of ceremony and reception venues. Each package includes your own personal wedding planner who will ensure that every aspect of your dream day is perfect. Two nights indulgent and romantic accommodation as well as luxury return transfers are also included.
The island is also available for private buyout for ultimate exclusivity.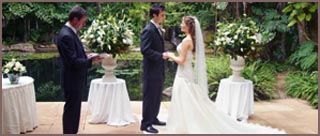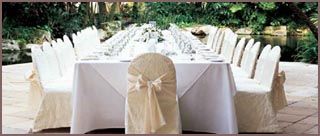 Ceremonies can take place on the white sand beaches, in the lavish tropical gardens or in the tranquil hilltop chapel with views of the ocean. Reception venues can be indoors or outdoors and can cater for every wedding dream. 
The InterContinental Hayman Island Resort can provide a small, intimate 'Elopement-Style' wedding where you dine under the stars with your closest friends or you might choose to celebrate until the early hours of the morning in the Langford Room which has the capacity for 300 guests.
The wedding team at Hayman Island will help you to plan every moment of your day to create a truly magical, unique and unforgettable wedding.
Hayman Island Ceremony Locations
Intercontinental Hayman Island Resort offers elegant indoor and outdoor wedding ceremonies on the beach, in tropical gardens or in our delightful chapel.
The Stella Maris Chapel
This traditional hilltop chapel setting is charming and timeless. 
Max Capacity: 70 
Coconut beach or Hayman beach
Soft sands and a gentle ocean breeze make our beaches exquisite ceremony locations.
Max Capacity: 120 or 330
Coconut Grove 
This beachside grove is framed by tall palms, forming an idyllic natural arch around the ceremony. 
Max Capacity: 200 
Langford Lawn 
A beautiful prospect for a romantic ceremony on the soft grass framed by palms and an arbour. 
Max Capacity: 80 
STAYING ON HAYMAN ISLAND
A Hayman Island honeymoon will live in your memory forever. The beautiful accommodation in the Pool Wing and Lagoon Wing are of superb quality. If you really want to go for that bit extra you can choose to stay in one of the Penthouses. The Beach Villas are eight fantastic new villas. Features include a Beach Butler service, a large private pool in an open air gallery with a daybed, a private terrace, an outdoor shower, a stunning bathroom with an island bath and a separate shower.