TThe Cape York "Advanced" Safari is a 12 day drive / fly camping safari which focuses on the nature of Cape York's wilderness, a region of international conservation significance and perhaps Australia's next World Heritage listed region. Designed for Nature-lovers, Bird-watchers and Adventurers this safari travels "off-the-beaten-track" to see-the-rarely-seen.
Highlights:
A focus on the flora and fauna of Cape York's wilderness, intentionally omitting the usual Cape York tourist urban icons.
Travel "off the beaten track" to "see the rarely seen", visit remote areas, enjoy new experiences and have fun. Two-night camps allow quality time in feature-rich areas while the location of one-night camps allow a relaxed start to each new day. Two accommodated nights provide mid-safari respite and time to relax and celebrate on our last night together.
Two senior guides travel on this safari to enhance personal interaction and add an extra measure of safety in the remote areas this safari visits.
The itinerary description is intentionally vague so as to protect the proprietary nature of the itinerary.
A maximum of twelve passengers.
Inclusions:
OKA 4WD vehicle, safari trailer and associated equipment. · Two senior Wilderness Challenge Guides. · 2 x two-night camps. · One accommodated night at Moreton, permanent-tent safari camp. · One accommodated night at Seisia. · All meals, except lunch on three days and dinner on two days, as coded above. · Ice for cold drinks. · Camping equipment, including twin-share tent and 100mm self-inflating mattress. · All Ferry, National Parks and Aboriginal & Torres Strait Islander Site fees. · Airfare Horn Island to Cairns.
Exclusions:
All drinks, except tea and coffee. Milk is provided for cereals, tea & coffee. · Lunch on four days and dinner on two days. · Sleeping bags. Available for hire for $25.00 each.
Tour is not suitable for children under 7 years of age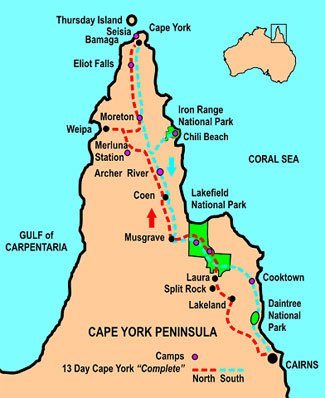 DETAILED ITINERARY
Day 1(D) An early departure from Cairns soon sees us climbing onto the fertile Atherton Tableland heading west then north. Along the way we'll hone our binocular skills to bring the Cape's fabulous wildlife closer, safely. Finding mammals, reptiles and especially birds will be a feature of our time travelling through Cape York's wilderness not to mention its rich flora and colourful history. After crossing the Great Dividing Range we'll climb the escarpment (suitable footwear and reasonable fitness required) to Split Rock to view ancient "Quinkan" Aboriginal rock art depicting life and customs here thousands of years ago. Lunch is at your own expense today. Travel on to our first night's camp in Lakefield National Park.
Day 2 (BLD) Awake to an energising morning chorus before spending the day exploring Lakefield National Park, Queensland's second largest at 543,000 hectares (1.34 million acres). We'll head off to seek and record wildlife and birdlife in the surrounding wetland, savannah, woodland, open-forest and riparian habitats, Wonderful opportunities today to experience the park's abundant wildlife. Return to our camp for the night.
Day 3 ((BL) We break camp this morning and travel on through the park's "magnetic" termite dotted savannah landscape and waterlily covered billabongs. A great variety of birdlife this morning including Star Finch, hopefully. After lunch we rejoin the main road and continue into Golden-shouldered Parrot country where we'll try to find this rare and endangered bird. We camp at Musgrave tonight, a fortress Telegraph Office of a century ago. Dinner at the Roadhouse this evening is at your own expense.
Day 4 (BD) A transit day today to travel to Iron Range National Park passing Coen and Archer River along the way. Lunch is at your own expense today. We'll set up camp for two nights at a spot which gives us the best access and chance to find the wildlife treasures of Iron Range – Eclectus Parrot, Green Python and Spotted Cuscus among others.
Day 5 (BLD) A whole day to walk in the rainforest and to visit Portland Roads and Chili Beach. Don't be surprised to add Frilled Monarch, Black-winged Monarch and Magnificent Riflebird to our list today. The elusive Yellow-billed Kingfisher, Marbled Frogmouth and the delightful White-faced Robin will also be among our goals. Return to camp.
Day 6 (BD) Back to the main Peninsula Development Road. Lunch is at your own expense today. On to Moreton on the banks of the Wenlock River and an excellent chance to add Palm Cockatoo to our list. We'll leave our tents stowed because we're going to 'accommodate' tonight using Moreton's permanent-tent safari camp facilities.
Day 7 (BLD) 4WD adventure this morning as we travel the Telegraph Track north to our secluded wilderness camp site for two nights.
Day 8 (BLD) A whole day to do as much walking, swimming, fishing, birdwatching or relaxing as you like along the banks of this beautiful, remote 'wild-river'. Both guides will be on hand again to intensify the guiding and interpretive interaction. An opportunity to try our luck fishing for Sooty Grunter, Barramundi and Saratoga today.
Day 9 (BLD) After a relaxed start we continue north on the Telegraph Track stopping off at secluded hideaways along the way to explore and ponder this peaceful isolation. A good chance for White-streaked Honeyeater today. Before too long we'll be camped and relaxed beside another crystal clear, spring-fed creek.
Day 10 (BLD) Saltwater today as we travel west to the shores of the Gulf of Carpentaria. A relaxing day to wander along the beach, search for crocodile tracks and probably try our luck fishing for any number of tropical species. One thing is for sure, there will be a sunset to remember. A beachfront camp tonight.
Day 11 (BL) Leaving the coast we travel north to the Northern Peninsula Area (NPA) crossing the mighty Jardine River en-route. After lunch we take the last step travelling to Cape York at the very top of Australia! Back in civilisation we check-in to our accommodation where an air-conditioned room, hot shower and crisp sheets will be welcomed despite our love of "being out there". Celebrate on our last night together. Dinner is at your own expense this evening.
Day 12 (B) We say farewell this morning as you board your boat to cruise to Thursday Island, capital of the Torres Strait Islands. After lunch (own expense) transfer by ferry to Horn Island to board your aircraft to fly over The Great Barrier Reef to Cairns ending your fascinating safari of adventure and discovery in Australia's far north. The safari terminates at Cairns airport.
Meal Codes: B = Breakfast, L = Lunch, D = Dinner