Hire and rental for Cairns – Motorhomes / Campervans
There are numerous rental ideas for anyone who doesn't already have their own means of transportation and wishes to with very reputable companies offering a list of ideas. From getting around by bicycle and slowing the pace down a little to hiring a scooter for the day or arranging for something a little bigger with a car rental company. From small cars to four wheel drives, motorhomes and more, you can book the perfect rental option to suit you, your budget and what you wish to experience on your trip to Cairns.
For anyone flying direct into the Cairns Airport you can easily prebook your rental car and have it waiting for you from the moment you step off the plan or simply book a car at the tour desk of your chosen holiday accommodation and have it delivered to your door. Along with rental cars you can hire your sailing vessel to cruise the waters and foreshore of Cairns, get the kids out fishing in a hired dingy for the day or perhaps arrange for your own tour guide to take you to places that you probably didn't even know existed.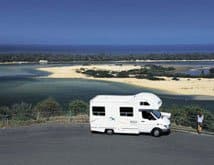 Within Cairns you can utilise numerous rental options that will surely add to your trip and really make it a memorable vacation for everyone involved. No matter what the age, interest and how much you have to spend you can take advantage of a number of great rental options and tours to jam pack into your holiday to Cairns.
Enquire about with tour and rental options you can book either before you travel or once you arrive so that you can have every opportunity to take in the sights and delights of a tour to the rainforests near Cairns in far north Queensland.
Follow the link for more on Motorhome / Campervan Hire