Mackay, the major regional city in the region, combines country hospitality with a balance of all the attractions and commercial facilities expected of one of the largest regional cities in the state. Abundant in history the city first settled in 1862 by John Mackay who recognised its fertile river and hinterland country. It has since developed into the sugar capital of Australia and visitors are encouraged to take in tours of a sugar mill or a working sugarcane farm.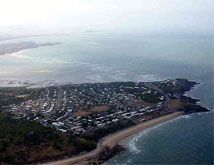 The Whitsundays plays host to many beaches and a fair number surround Mackay. The northern beaches are only 10 to 15 minutes from the city. A visit to Eimeo Pacific Hotel is a must, this pub is popular among locals and tourist who enjoy its "counter lunch with a million dollar view" in the beer garden, thanks to its cliff top location overlooking the Coral Sea, Eimeo Beach and Sunset Bay. Mackay also has lots of quality accommodation however it is extremely popular and is booked out almost every week with miners from the central coalfields on their week off. It really is essential to book your Mackay accommodation as early as possible. Nightlife in Mackay is a hub of activity from the cluster of nightclubs in the city centre. There are also plenty of coffee clubs, hotels, brasseries and a wide range of bars. Whatever you prefer all age groups and budgets are catered for in this city.
Eungella and the Pioneer Valley, apart from being one of the richest sugar cane growing areas in Australia, is by far one of the most picturesque valleys in Australia. Along the road known as 'The Natural Way' to Eungella you will pass through many townships and villages.Each of these towns has their own unique charm and atmosphere and is well worth stopping to take in all there is. As the road winds up to the top of Eungella the beauty is astounding when looking over the Pioneer Valley below.
There is no better way to experience the natural beauty of this region than with the breathtaking views of the entire Pioneer Valley from atop Eungella Range and at the National Park's many roadside lookouts. South of Mackay, about 37 kilometres nestled in the foothills of the Connors Range is Sarina. A focal point for the coal, sugar, dairy and grazing industries, there is plenty of accommodation from caravan parks to motels.
On Sarina's doorstep are many unspoiled beaches that provide sheltered swimming, great fishing and sweeping view of the surrounding coastline from its lookouts including Coral Point at Campwin Beach and Perpetua Point, Sarina Beach. Mackay is a fantastic holiday destination with the fringing coral Reef structures, just offshore, a fantastic boat harbour and some of the best fishing charters on the Queensland coast. If you are planning a holiday in Queensland, then come on up to the Whitsundays and stay in Mackay.
Important Travel Information: