Fraser Island Backpackers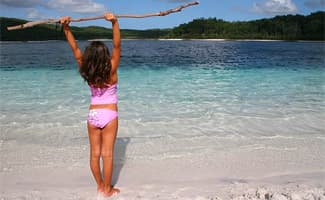 Fraser island is a backpackers paradise and thousands of them come here every year to see the magnificent beauty spots on the island for themselves. Most backpackers visit the island on two or three day self drive camping tours Where up to seven backpackers share a troopcarrier vehicle and the lead vehicle is driven by a qualified guide who is in charge of the group. As of May 2010, these tours must be accompanied by a guide and the backpackers follow behind in four wheel drive vehicles. Numbers of passengers have also been limited to seven passengers. The price has increased a little, but the number of accidents caused by inexperienced drivers is expected to drop to almost zero. backpackers accommodation is available at Kingfisher Bay resort, Eurong Beach resort, Cathederal Beach resort and at Fraser Island backpackers at Happy Valley. There are also self drive options where you can hire a four wheel drive vehicle, camping gear, and obtain a national park permit and then explore the island at your own leisure.
If you are traveling in the region please see our Hervey Bay backpacker page as well as our Rainbow Beach backpackers page.
Backpackers on Fraser Island: