Fraser Island Whale Watching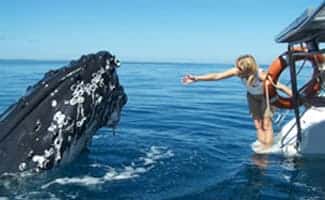 Fraser Island is a great place for shore based whale watching. Every year between the months of May and July and then again from September to November pods of migrating Humpback whales travel along the coast as part of their annual migration. They can be spotted every day as they come close to the coast. The best places to go whale watching from along the ocean shoreline of Fraser Island are the higher points of land like Indian Head which is the easternmost point of the island. The height of the headland gives the whale watcher a great view as the animal's pass by. It is also common to spot large turtles, dolphin and sharks in the shore break here.
On the northern and north eastern side of the island Fraser Island borders the Marine Park where the Hervey Bay whale watching vessels go to show their customers the Humpback whales. The ocean swells here are broken by Fraser Island and this provides a calm water bay where the whales come to have their calves and suckle them prior to their arduous migration back to Antarctic waters. The whales here have become used to the boats and it is common now for them to swim right up to the boats and investigate the whale watchers.
Mercure Kingfisher Bay resort, which provides the best resort style accommodation on Fraser Island, lies on the western side of Fraser Island runs whale watching trips into the marine park on one of their fast catamarans. The Fraser Island and Hervey Bay regions are the best place in the world to go whale watching and the industry here is now 25 years old so the operators are really experienced and recognize many of the whales that return year after year.
If you want to go whale watching or take the kids whale watching, there is no better place than Fraser Island.
Whale Watch Cruises: