Fraser Island Wildlife
Fraser Island wildlife is unique. This is due to the fact that its gene pool has been separated from the mainland for centuries and animals that exist in Fraser Island have had little or no contact with their mainland relatives. The wildlife on Fraser Island includes many different species of reptiles, hundreds of bird species and a number of mammals. The best know of these is the wild dog or Dingo. Fraser islands population of dingoes are extremely important as they are the purest of the species left in the country. On the mainland, dingoes have interbred with feral dogs to produce an animal that, in many cases, does not look at all like the original dingoes that can be seen on Fraser Island.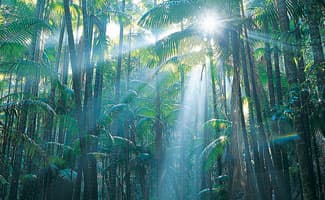 Most of the forests on the island also have kangaroos and wallabies as well as Echidna and a few Koala. Reptiles in the form of snakes and monitor lizards are very common and in many of the lakes, you will find several species of fresh water turtles. Salt water turtles and sea snakes are often encountered along the ocean beaches. The Great Sandy Straits, which is the waterway that separated the island from the mainland, is also home to dugong and marine turtles.
Bird life in the forests and along the beaches of Fraser Island is prolific and a large number of different species live here. Fraser Island is a wildlife sanctuary and is world heritage listed to protect its inhabitants