Fraser Island Holiday with Kids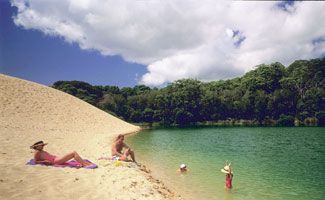 Fraser Island is the best place to take the kids for a holiday. All children love to go camping and fishing or playing beach sports and maybe exploring fascinating lakes and rainforests. Fraser Island is filled with these activities and much more so your kids will be entertained for as long as you want to stay. Local island accommodation isavailable in resorts of different standards, self contained apartments or in holiday homes, most of which are only walking distance to the beach. Your other option which is also very popular is to take the kids camping on the island. At the time of writing this you are able to camp anywhere you like on Fraser Island. There are however, moves afoot to restrict camping to dedicated camping areas. These are currently available at Central Station, Eurong, Happy Valley, Cathederal Beach, Dundaburra or at Orchid beach.
Fraser Island is a kids paradise. Except for the odd hungry dingo there is little danger and the dingos and other Fraser island wildlife, must be treated with respect. There is so much for the kids to see and do. Visiting the beauty spots, swimming at Lake MacKenzie is a fantastic experience with its blinding white sand and crystal clear waters, it is the ideal place to stay for a couple of days. The ocean beach is miles long and is ideal for surf fishing and beachcombing. The stands of rainforest on Fraser Island are unique in the world in that it is the only place known where rainforests grow in sand. The Yidney Scrub rainforest and Central Station and Woongoolba creek regions are supremely beautiful. The kids will also enjoy visiting the Maheno ship wreak, the coloured sands, Indian Head and the champagne pools.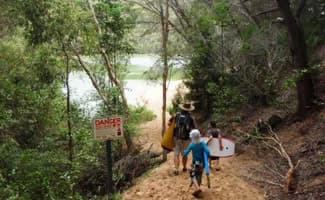 If you choose to take the kids to a resort, there are two main ones to consider. Mercure Kingfisher Bay resort is a four star resort located on the western side of the island and has lots of kids activities. Eurong Beach resort is a three star resort and is located on the ocean beach and often has holiday specials. Fraser Island can be accessed by barge from Hervey Bay in the North or from Rainbow Beach in the south. You can take your own four wheel drive vehicle to Fraser Island on the barge.
Fraser Island is one of Australia's best family holiday destinations and the kids will love it.