Indian Head - Fraser Island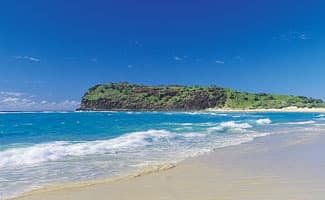 Indian Head is the only rock outcrop on Fraser Island. It is actually the birthplace of the island as it is the feature that first started attracting sand that grew into Fraser Island itself. Indian Head lies at the northern end of the island and is a popular tourist destination. Tourists like to climb to its summit and watch the waves crashing on the rocks below. On most days they will also be able to see turtles and sharks in the waters below. The view in either direction, along the beaches is quite spectacular. Indian head is also a favorite destination for fishermen and the stretch of beach o its north is one of the best tailor fishing beaches in Australia. It is common to see thirty or forty four wheel drive vehicles parked here and a row of fishermen along the waters edge.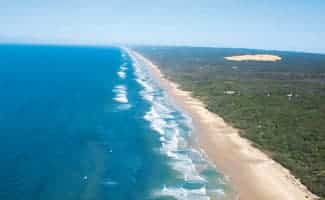 Captain James Cook named the headland while exploring Australia's east coast as his log shows they observed a group of aboriginals standing on the headland as they passed which prompted Cook to name it "Indian Head" There are camping grounds in the near vicinity and it is one of the most popular camping places on the ocean side of the island. The Champagne Pools lie just to the north and this is a very popular swimming destination where ocean waves crash into protected pools in the rocks.