Lake McKenzie - Fraser Island
Lake McKenzie on Fraser Island is one of its most photographed beauty spots. The lake is a window lake, which are formed when the water table on the island rises above the surrounding sand dunes. Lake McKenzie is surrounded by beaches of ultra white silica sand, that is as fine as talcum powder, and the fresh water of the lake is crystal clear. Swimming in the lake is a fantastic experience. Tour companies have been bringing customers to see this lake for many years and because of the large number of visitors, the lake was in danger of being loved to death.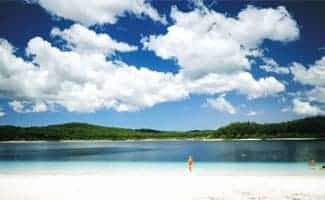 In the second half of 2010 the Queensland Government unveiled $3 million dollars worth of improvement to the lakes facilities in order to protect this beautiful attraction from the increasing number of tourists. New vehicle barriers and access routes have been constructed, along with better four wheel drive parking facilities and custom built walkways. There are also three new amenities blocks and timber viewing platforms. The lake is now accessible to wheelchair and walking impaired visitors.
Because of its overwhelming popularity as an icon of the Fraser Island tourist scene, and its use as a stopover point for two and three day tour companies as well as the being the most visited site on the island by private four wheel drive vehicles, the new facilities have been designed to cater for a large increase in the visitor numbers to lake McKenzie.