Moreton Island Barge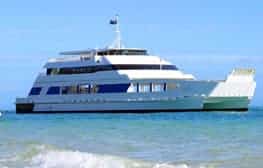 Moreton Island is located just 40km of shore from the capital of Queensland, Brisbane, and is accessible by a barge that makes daily trips to and from the island. So if you are planning on making your way over to the island in your own 4WD you can easily arrange transfer on board the MICAT.
The MICAT has a great drive on and drive off facility that can hold up to 52 cars on the lower deck. With toilets and wheel chair access all available on the lower deck it can also be changed into a rather impressive entertaining area if you are ever looking for large floating function room. The Saloon Deck is a peaceful place if you are looking to get out of the wind and relax as you watch the scenery pass you by as you sip on your refreshing beverage from the licensed bar. With a huge area for the kids to enjoy, plenty of room to move and sitting arrangements it can hold up to 200 people.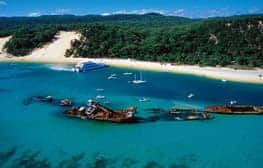 The Upper Deck is great for getting the full 360 degree view capacity as you travel along the calm waters of the Moreton Bay area. Sit and take in the scenery in your comfortable chair either on the outer deck area under the warm summer sun or perhaps under cover.
The barge departs everyday from Brisbane at exactly 8.30am in the morning to make its way over to Tangalooma Wrecks. As well as doing daily trips back to the mainland at exactly 3.30pm every afternoon for anyone wishing to depart from the island. Though on Sunday the barge does two runs in the morning, one at 8.30am and one at 2.00pm, and in the afternoon it leaves the island for Brisbane at 1.00pm and again at 4.30pm.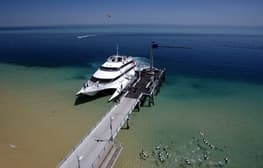 Moreton Island has long been a desirable holiday destination for thousands of people, as you can have everything you need for an amazing holiday all in the one place. From a wide variety of attractions including whale watching, dolphin feeding, National Parks, lakes, beaches and luxury accommodation, a holiday here is exactly what you are chasing.
From land to the ocean there is a whole other world of tours and rental options for you to do while you are here as well, from nature walks, hiking, eco tours, sand tobogganing, whale watching, fishing charters, diving expeditions and four wheel driving adventures. From the kids to the adults, you are bound to find an array of activities that are sure to spark your interests.
To arrange transfers on the Moreton Island Barge,
please call the barge company direct on: 07 3909 3333.