Moreton Island & Stradbroke Island Accommodation
Moreton Island accommodation and Stradbroke island accommodation comes in a wide variety ranging from holiday apartments through to international resorts such as Tangalooma wild dolphin resort. The Moreton Islands are located on the western side of Moreton bay and are accessed from Brisbane by fast catamaran or vehicular ferry. Stradbroke island lies to the south of Moreton island and is generally accessed from Hope Island on the Gold coast. Its most important resort is Couran Cove Island resort which is a five star resort with a marina frontage. Both islands also have a supply of holiday houses and other apartment style resorts.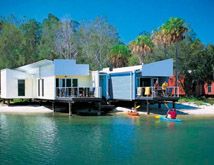 The islands are famous for their beaches, lakes, fabulous scenery and their close proximity to a major city in Brisbane. Many tours are also available to the islands from Brisbane. Sunrover tours in particular are well respected and have operated for many years. Holiday accommodation specials and packages are available from this website for Moreton Island accommodation and Stradbroke Island accommodation.