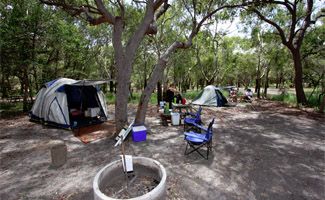 Camping on Fraser Island is one of life's great pleasures. There are very few world heritage wilderness areas left on the planet where campers are welcomed and there are excellent facilities to cater for them. Fraser Island has everything a camper dreams of. There is fantastic scenery, plenty of fresh water, easy access and a safe environment. There are so many people who enjoy camping on Fraser Island and thousands of them return every year for their annual holidays. At the time of writing this there is no restrictions on where you can camp on the island. There is however, debate in the media about restricting camping to dedicated camping areas. The debate about feeding dingos or not feeding dingos goes on and many people feel that if campers are restricted to properly controlled camping areas the dingo problem will be reduced.
Fraser Island is famous for its wildlife and fishing and tens of thousands of beach fishing aficionados have come to Fraser Island to try their luck. The annual fishing competition sees thousands of fishermen and their families camped at Orchid beach at the northern end of the island to try their luck at catching a special fish that will win them the annual prize of a brand new four wheel drive vehicle. Many families with kids love to come to Fraser Island to camp on the beachfront for the annual school holidays. There are so many places of interest to take the kids that are superbly beautiful.
Lake Wabby, Lake Birrabeen, Lake Mackenzie and many others each have their own charm and resident wildlife. The tropical rainforests are magnificent with tall forest of Satinay and Kauri Pines covering an understory of ferns and vines. Both Central Station and the Yidney Scrub Rainforest areas are a must to take the family. Camping gives you so many options of places to stay and the cost of your holiday is kept to a minimum. Fraser island can be reached by road from Hervey Bay or Rainbow Beach and then barges are available to carry you and your four wheel drive to the island. If you want to go camping on your next holiday, then come and see Fraser Island.