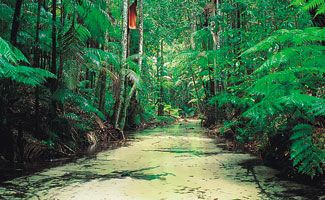 Central Station is one of the most beautiful places on Fraser Island. It grew from a small loggers village on the island to become one of the islands most important beauty spots. Central Station lies on the banks of Wangoolba Creek and among a magnificent stand of Kauri pines and Satinay trees. Today it is the most popular camping spot on the island and has great facilities for campers that include hot showers and toilets. There is also a ranger station and garbage disposal facilities. In its early days there were around thirty houses at central Station.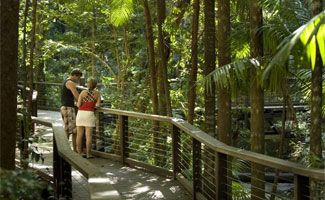 Today, tourists come here to enjoy the magnificent scenery. Wangoolba creek is crystal clear and its banks are lined by magnificent rainforest. A boardwalk has been constructed along its banks to allow tourists to walk along the creek without damaging the environment. Along its banks you can see rare King Ferns that are only known to grow here and in one other place in Queensland. Huge trees are a feature of the area and line the creek banks. The boardwalk will take you through to Pile Valley which also has its place in history. The Satinay tree that grows on Fraser Island is the hardest timber in the world and impervious to marine worms, and for this reason is highly prized as a wharf and bridge building timber. During the construction of the Suez Canal, the entire length of the canal was lined with Satinay timber, cut from Pile Valley.
Central Station is only a short drive from the vehicle ferry that comes to the island from River heads and is an ideal place to camp on the first night of your visit to Fraser Island.
Fraser Explorer Premium Day Tour
Fraser Explorer – Lake McKenzie 2 Day 2 Night Tour
Palace Adventures
Kingfisher Bay – Cool Dingo Tour
Aussie Trax 4X4 Rentals
Whalesong Whale Watching & Fraser Island Packages
MI Helicopters
Fraser Explorer Day Tour Ex Hervey Bay
Fraser Explorer Day Tour Ex Rainbow Beach
Sunrover – Fraser Island 2 Day Tour Ex Brisbane
Aussie Trax 4WD Hire – From Kingfisher Bay
Fraser Explorer – 2 Day 1 Night Tour
Beauty Spots 4WD Tour – Kingfisher Bay Resort, Fraser Island