The wreck of the Maheno lies on the ocean beach of Fraser Island between Happy valley and Cathederal Beach resort. The Maheno, which is a Maori word meaning "island", was built in Glasgow in Scotland and was launched in 1904. She was the first triple screw steam ship to be built in the world and had a displacement of 5323 tonnes.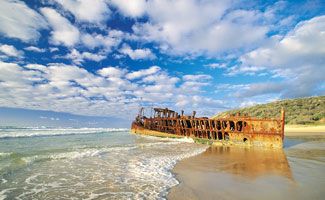 She was originally built for the trans Atlantic trade and served in that role for a number of years. At one stage she held the blue ribbon for the fastest Atlantic crossing. During world war two, the Maheno served as a hospital ship and after the war was then engaged in the passenger trade between New Zealand and Australia. At the end of her useful life, the Maheno was being towed to Japan to be scraped when the tug and the Maheno were caught in a cyclone off Fraser Island on Australia's east coast. The tow rope snapped in the storm and the disabled ship was washed onto the beach on Fraser Island, where the remains lie today.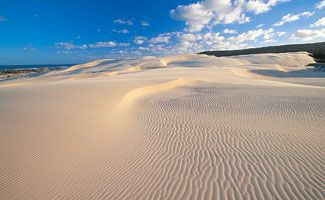 During world war two, the Maheno was used by the RAAF for bombing practice and the remains that are left are now very seriously degraded. There are still some vestiges of the teak decks to be seen but the remainder is just a rusting hulk with waves flowing through it. Most day tours on the island drive along the ocean beach and always stop at the Maheno wreck for a photo opportunity.
Fraser Explorer Premium Day Tour
Fraser Explorer – Lake McKenzie 2 Day 2 Night Tour
Palace Adventures
Kingfisher Bay – Cool Dingo Tour
Aussie Trax 4X4 Rentals
Whalesong Whale Watching & Fraser Island Packages
MI Helicopters
Fraser Explorer Day Tour Ex Hervey Bay
Fraser Explorer Day Tour Ex Rainbow Beach
Sunrover – Fraser Island 2 Day Tour Ex Brisbane
Aussie Trax 4WD Hire – From Kingfisher Bay
Fraser Explorer – 2 Day 1 Night Tour
Beauty Spots 4WD Tour – Kingfisher Bay Resort, Fraser Island