The beauty spots on Fraser Island and the history will take your breath away. Some of the things you will see when you visit Fraser Island, although different from the things you will see in other parts of the world, will astound you with their natural beauty. Fraser Island is famous for many things but the thing you will cherish most are the memories of its magnificent lakes and rainforests and the clarity of the beautiful streams. Fraser Island is very easy to get to. You can fly direct to Hervey Bay from Sydney or Melbourne or you can bring your own four wheel drive vehicle and bring it across on the barge from either Rainbow Beach or Hervey Bay. If you are not self driving you can join one of the organised tours that run daily to the island. These tours can take you for one, two or three days and the extended ones are accommodated on the Island.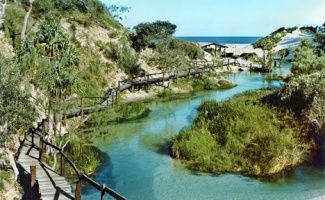 The places that you must visit while visiting Fraser Island include.
Indian Head and the Champagne Pools. Indian head is the only rock area on Fraser island. All the rest of it is sand. The headland provides a fantastic vantage point to overlook the ocean and from here you will often see turtle and sharks swimming below. The champagne Pools are a fantastic place for a swim as the waves continually wash more water into the pools as you swim.
There are many other places to go however these are the most commonly visited beauty spots on Fraser Island.