Southport along with the northern end of the Gold Coast hosts Australia's most spectacular theme parks. These award-winning attractions are a magnet for families seeking a fun filled holiday adventure. Here are just some of the highlights set to captivate your imagination when holidaying in this exciting city. Local places to stay provide some of the best accommodation on the Gold Coast and can be found lining the shores of the Southport broadwater.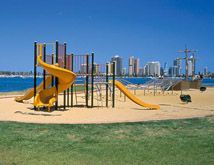 For the water lovers out there an outing to Wet 'n' Wild Water World where you can slide through the day and discover the Dive-In Movie at night while lounging in the wave pool. Warner Brothers Movie World is for the movie buffs and those just wishing to escape into the magical world of showbiz. Or for those who want to visit the home of Big Brother, Dreamworld is the place for you with its collection of the tallest, fastest rides in the world. Whatever you choose, there is a theme park that is right for you and your family.
The Southport region also offers tours of working breweries of famed Aussie beers at the Carlton Brewhouse near Beenleigh. A guided tour, tasting plus an historical account of Carlton's operations and marketing successes make for an interesting day out. Or perhaps discover a boutique brewery at Sanctuary Cove with locally made ales.