Gold Coast Activities & Attractions
The activities on Queensland's Gold Coast are practically endless in their nature. Age makes no difference here as there will be an activity that will be just right for you. If you bring your family to the Gold Coast for a holiday, the first thing the kids will want is to visit the theme parks. There is days of entertainment here as these parks are so diverse in their attractions that is impossible to get bored. Adreniline pumping thrill rides are the order of the day as each park has tried to trump the others with something more exciting or scary. Almost all have a water park so that everyone can have a swim and cool off during the day and there is scads of unique Australian wildlife on display. A day spent at Dreamworld, Seaworld or Movieworld will pass in a flash as the kids enjoy the thrills of the park. At night, a trip for dinner to the Great Australian Outback Spectacular is a truly special activity. Gold Coast activities are also popular on the water with whale watching in season and fishing charters available all year round.
GOLD COAST
Australian Outback Spectacular

Pickup is available from Gold Coast accommodation at extra charge

Australian Outback Spectacular is a first of a kind in Australia. This unique and exciting show captures the grandeur of the Australian Outback.
Dreamworld

Hours of operation: 10am to 5pm every day except Christmas Day and ANZAC day (25th April).

So many worlds in one, Dreamworld is an action packed two-day adventure with some of the wildest rides and attractions in Australia.
SeaWorld

Opening Hours: Open every day of the year except Christmas Day (25 December)

Visit Sea World on Australia's Gold Coast - the most amazing world of all! Make contact with marine life wonders and experience a whole world of exciting rides, shows and attractions.
Warner Bros. Movie World

Opening Hours: Open every day of the year except Christmas Day (25th December)

Visit Warner Bros. Movie World on Australia's Gold Coast! Experience the magic and excitement of a world where everyone's a star.
Wet'n'Wild Water World

Opening Hours: Open every day of the year except Christmas Day, 25 December.

Enjoy all the fun and excitement of the world's latest water slides, pools and attractions.
Whitewater World By Dreamworld

Opening Hours: 10:30am to 4:30pm every day of the year, except Christmas Day and Anzac morning (25 April)

WhiteWater World is no ordinary water park - it's the most advanced water ride park on earth.
The Gold Coast beaches are shared by locals and tourists alike. High rise hotels and family apartments line the beachfront. The Australian surf lifesaving movement is well represented here with a surf club located on every beach. Surf carnivals are held on a regular basis and these are quite spectacular. Come along and watch the Iron Man events or the fantastic surf boat races. The surf lifesavers also patrol almost every beach. Visitors to Australia should be aware that swimming in the surf can be dangerous so only swim on patrolled beaches and look for the red and yellow flags. The area between these flags is the patrolled area that it is safe to swim in. Every year, a number of international tourists holidaying on there Gold Coast will be drowned because they do not follow this simple advice.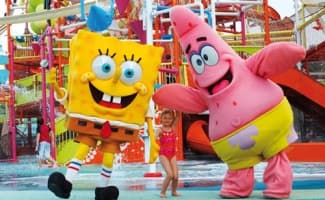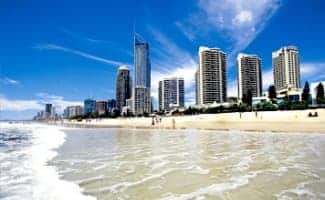 The Gold Coast Hinterland is another activity filled destination. Take a thrill ride in an old biplane or an early morning ride across the coast on a hot air balloon. Visit some of the magnificent beauty spots, play golf or go bushwalking through the rainforest where you could get up close to a kangaroo or wallaby. At the southern end of the Gold Coast is the Currumbin bird sanctuary. This is a must visit destination to see lots of Australian mammals, marsupials and birdlife. It is truly a beautiful interactive display.
There are so many activities and attractions on the Gold Coast it is impossible to mention them all here.