Gold Coast Theme Parks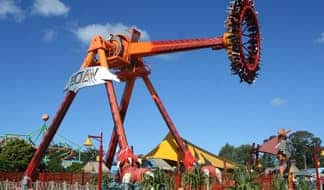 The Gold Coast is home to three of the worlds most popular theme parks. Over the past three decades, these parks have become icons on the family entertainment scene, and no family holiday to the Gold Coast is compleat without a visit to at least one of them.
They have become the Gold Coast's greatest attractions and are part of almost every packaged holiday deal available for the Gold Coast. Many holiday specials are now available that include accommodation and transfers as well as entry into one or more of the Gold Coasts theme parks.
Dreamworld has an enormous amount to offer. Firstly, there are the adrenaline pumping rides that the kids find so addictive. There are roller coasters that really push the limits. The giant drop is definitely not for the squeamish and the wipeout is a must for those who like to hang upside down. There is a great wildlife park and you can cuddle a koala here. If it really hot, come and try the water park.
Movie World is close to Dreamworld and once again there are plenty of great rides and attractions. Superheros roam the streets alongside Disney characters. it is a fantastic place to spend a day entertaining the kids.
Wet'n'Wild is the best place to go with the family on a really hot day. There are so many swimming pools, water slides and aquatic activities that you never dreamed existed. The whole family will love a day out at Wet'n'Wild.
Sea World Seaworld is a family favorite among holiday makers on the Gold Coast. Firstly, there are usually holiday packages available to stay at Seaworld resort and include entry into the park. The entire complex is hard to beat for a total family holiday. The kids will love the dolphin and seal displays as well as the adventure park with its sensational rides. The water park is also a great place to cool off. Seaworld really has it all for a Gold Coast holiday with the kids
Plenty of apartment style Accommodation is available in this site to help you organise your holiday that will include a visit to the Gold Coast theme parks.