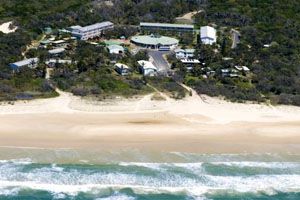 Eurong Beach Resort's absolute beachfront position gives easy access to the vast expanse of Fraser Island's famous Seventy-Five Mile Beach.
It is also centrally placed to visit the southern lakes, which include McKenzie and Wabby, as well as the rainforests around Pile Valley and Central Station.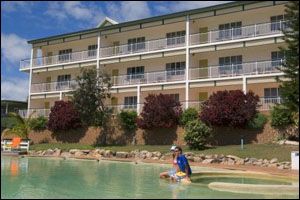 GENERAL FACILITIES
Two swimming pools
Restaurant
Two Bars
Reception (7am – 8pm)
Cafe
Bakery
General Store
Petrol Station
EFTPOS
Major credit cards accepted (some surcharges may apply)
Guest laundry fully equipped
Tennis
BBQ
Fishing gear hire
Joy Flights
4WD Tours
Disabled facilities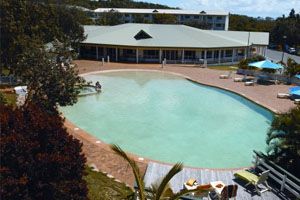 RESTAURANT
Eurong Beach Resort is located right on the Fraser Island ocean beach. There are many hectares of tropical gardens.
A major refurbishment in the late 1990s saw a huge new swimming pool and a number of new accommodation units added to the resort.
The fun place to be is the casual Beach Bar which has entertainment most nights. Relax with a drink under the palms trees overlooking the beach or swim in the pool.
SHOPS
Eurong is a most popular place on the island to shop for supplies with fuel, bakery and a convenience store.
A bakery supplies fresh bread and pastries, pizza, casual snacks, coffee, drinks and ice cream.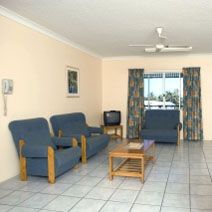 Accommodation Information:
Accommodation is designed to suit all budgets and ranges from motel units to two-bedroom apartments.
Spacious self-contained motel units have double or twin beds and day beds, which make two single beds for children. Units have a decks or patios, fully-equiped kitchenettes, showers and toilets.
Self-contained, two-bedroom apartments accommodate up to six people and have large living areas, decks, fully-equipped kitchens, bathrooms and balconies.
By Air to Hervey Bay – Fraser Coast
Virgin Blue operate direct flights from Sydney with connecting flights from other ports. Qantas Link operates direct flights from Brisbane.
By Rail to Hervey Bay
Tilt Train from Brisbane or Rockhampton to Maryborough with QR Rail-link bus to Hervey Bay.
By Coach to Hervey Bay
A scheduled coach transfer service departs daily from Brisbane. Greyhound and Premier operate daily from Brisbane and Cairns.
Location Information:
HOW TO GET THERE
BARGES
Fraser Island Barges have several services daily from River Heads, south of Hervey Bay and Rainbow Beach.
Ex River Heads 20 mins south of Hervey Bay:
50 mins to Kingfisher Bay Jetty =
09:00, 12:30, 15:30, 18:45
Per Vehicle (1-4 pax) one way $95
Per Vehicle (1-4 pax) return $160
Extra passenger one way $6
Extra passenger return $12
Ex Rainbow Beach / Inskip Point
The 30 minute crossing operates on demand and during daylight hours.
FLY / DRIVE
By Air to Fraser
Air Fraser operate scenic flights and air transfers ex Hervey Bay and ex Sunshine Coast, to Fraser Island daily. A range of packages are available including your scenic flight, accommodation and 4WD vehicle hire.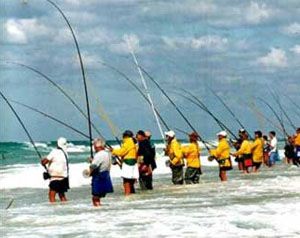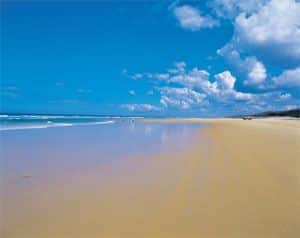 THINGS TO DO
TOURS
Leave the driving to someone else and take a day or
2 day Fraser Explorer Tour and see all the major sites including Lake McKenzie and Indian Head with an expert local guide.
Tours operate daily from Hervey Bay and Rainbow Beach and include: courtesy pickup from your accommodation, all meals and multi-share accommodation (upgrades available to motel & apartments), for two day tours.
Click on the links below to get itineraries and more details.
FRASER EXPLORER DAY TOUR ex Hervey Bay
FRASER EXPLORER DAY TOUR ex Rainbow Beach
FRASER EXPLORER 2 DAY TOUR ex Hervey Bay or Rainbow Beach
Don't just imagine… join a Fraser Explorer Tour and discover the best of this World Heritage wonder!
4WD PACKAGES
Eurong Beach resort is only accessible by 4WD vehicle. If you don't have a 4WD and would like to have the freedom to discover Fraser on your own, take a 2 or 3 day 4WD Hire Package.
FRASER ISLAND
FISHING
Fishing enthusiasts from around the world come to Fraser Island to experience one of Australia's most rich and diverse fishing areas. The fishing is some of the best in the world and available on your doorstep at Eurong Beach Resort.
Fishers are required to observe size and bag limits and are urged to take only what they need in order to protect the fish resource.
Beach fishing is popular at Eurong Beach Resort where surf gutters along the ocean beaches provide all-season angling.
Whiting and bream are plentiful in these gutters in warmer months and swallowtail can be caught all year round. The tailor season in winter sees dozens of fishing camps along the beach.
TIDES & PERMITS
Tides
Driving on Fraser Island's Seventy-Five Mile Beach is subject to tides and the general rule is to make sure you are off the beach for two hours either side of the high tide.
Permits
Vehicle access permits are required for all vehicles entering the island. Camping Permits are also required in advance for camping. Permits may be obtained from River Heads Barge Office, at Kingfisher Bay Resort reception and at Queensland National Parks and Wildlife Service offices including Brisbane, Hervey Bay, Maryborough, Bundaberg and Rainbow Beach.
4WD Driving Conditions
Speed limits are 80km/h on the beach highways and either 35km/h or 20km/h on the inland tracks. Drivers need to be responsible and make themselves aware of the conditions before setting out.
Emergency
There is a Police Station at Eurong. First aid and emergency medical assistance can be obtained from the Queensland Parks and Wildlife Service ranger stations. In the event of an emergency please call 000.