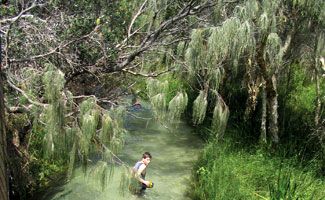 Eli Creek is the largest creek on Fraser Island. It flows into the ocean across the ocean beach close to the Maheno Shipwreck. Eli creek is a regular stop off point for tours along the ocean beach and is an ideal place for a picnic and a swim. The water in the creek is absolutely pure and up to 80 million liters of water a day flow from this natural aquifer into the sea.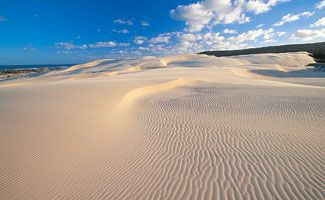 Eli Creek has facilities to reduce the impact of tourist numbers on its ecology. A beautiful boardwalk has been constructed so you can walk up one side of the creek, into the dunes and then cross over and return to the beach along the other bank. Many tourists like to swim in the creek and it is lots of fun to walk up as far as the boardwalk will allow and then let the current wash you back down the creek to the beach. There are toilet and picnic facilities at the beach end of the boardwalk.
Scientific evidence shows that the water flowing out from Eli creek into the ocean, fell as rain around two hundred years previously and has been filtering through the sands of the island for that length of time before running out into the creek. This huge sand filter accounts for the purity of the water in the creek.
Fraser Explorer Premium Day Tour
Fraser Explorer – Lake McKenzie 2 Day 2 Night Tour
Palace Adventures
Kingfisher Bay – Cool Dingo Tour
Aussie Trax 4X4 Rentals
Whalesong Whale Watching & Fraser Island Packages
MI Helicopters
Fraser Explorer Day Tour Ex Hervey Bay
Fraser Explorer Day Tour Ex Rainbow Beach
Sunrover – Fraser Island 2 Day Tour Ex Brisbane
Aussie Trax 4WD Hire – From Kingfisher Bay
Fraser Explorer – 2 Day 1 Night Tour
Beauty Spots 4WD Tour – Kingfisher Bay Resort, Fraser Island