Hervey Bay Resorts are now developing to compete with the best available in the other areas of Queensland that have been historically more popular. Hervey Bay is now taking its rightful place as one of the major tourist attractions in the state. The city is blessed with 16 kilometres of esplanade and its calm, north facing, beach is unique. Along this esplanade are now dotted a number of fine resorts and many more are now under construction. Hervey Bay beach houses and resorts can now be accessed directly by air from either Sydney or Melbourne and this availability has increased the demand for Hervey Bay luxury accommodation in the region.
Hervey Bay is the jumping off point to visit Fraser Island which is now considered to be one of Australia's tourist icons. The spectacular windswept beauty of Fraser's ocean beach, the magnificence of its rainforests and the pristine beauty of its lakes and streams have to be seen to be believed. Fraser Island can be accessed by ferry or vehicular barge from Hervey Bay. The most popular resorts on Fraser Island are Kingfisher Bay Resort on the inland side of the island and Fraser Island Backpackers, Cathedral Beach Resort and Eurong Beach Resort on the ocean side.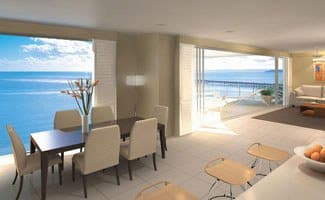 Hervey Bay is now world famous for its whale watching industry, and tour and local accommodation packages are now available. From mid July to early November pods of humpback whales are constantly visiting the bay as part of their annual migration. This is a must do attraction. There are some extremely experienced operators in Hervey Bay including Whalesong cruises, Spirit of Hervey Bay, Mikat Cruises, Tasman Venture Cruises and Blue Dolphin Cruises. The area is an integral part of the whales migration providing a calm water respite in which to calve, mate and suckle their offspring prior to their arduous journey back to Antarctica where they have to face the dangers of the harpoons tipped with rocket propelled grenades fired at them by Japanese whale catchers, so that the 5% of Japanese people who like to eat whale meat can be catered for.
Everyone throughout the world should stop buying Japanese products until this barbaric practice is discontinued.
Hervey Bay Resorts include BreakFree Great Sandy Straits marina Resort and the Mantra Hervey Bay which both have frontage onto the beautiful boat harbour. The Bay Apartments on the Esplanade is five star and the new Oceans Resort & Spa Hervey Bay opened in January 2007 as Peppers Pier is nothing short of magnificent.