The holiday activities available in Port Douglas will keep the family occupied for the duration of your stay. Port Douglas is situated in the far North Queensland wetlands and close to the Great Barrier Reef so there are always plenty of tours to take. Reef Diving enthusiasts will be able to go on day trips to the Low Isles or the Great Barrier Reef. Extended local tours depart for some of the world's most spectacular dive locations like the Ribbon Reef or the Cod Hole, both near Island resorts. Four wheel drive enthusiasts can tour around the Atherton tablelands or head north along the Bloomfield track through the Daintree Rainforest in the Cape Tribulation area and on to visit the historic town of Cooktown.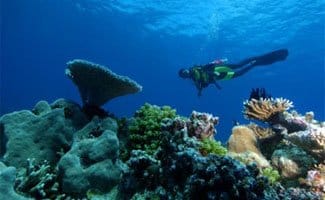 In the Port Douglas town area there are plenty of great activities to participate in. There are several quality resort golf courses courses where visitors are welcome and the layouts are beautifully kept and manicured. A few local crocodiles sometimes interrupt proceedings but not for long. In the Port Douglas village area, all the restaurants and alfresco cafes do a continuous trade and the souvenir shopping opportunities are almost endless. There are several wildlife parks for those that want to experience a close encounter with the local bird, reptile or mammalian creature. The marina precinct also has a great holiday shopping village and several restaurants and cafes situated on the boardwalk overlooking the comings and goings of the charter craft and visiting yachts.
Port Douglas has a huge range of holiday activities to keep everyone in the family happy.