A wedding in Port Douglas will be really popular with the guests as well as the bride and groom as it gives everyone involved the opportunity to go to one of the most beautiful places in Australia for a short break and enjoy the festivities in a truly magnificent location. There are so many fantastic locations for the ceremony that it will be hard to choose the one that is best for you. There is a choice of beautiful beaches, verdant rainforest or quaint waterfront churches. Port Douglas is also really easy to get to for your wedding too as Cairns airport is nearby and shuttle services along the coastal highway linking the two run all the time.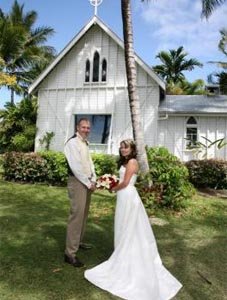 There are dozens of resorts with ideal reception and accommodation facilities for all the guests and the wedding party, and depending on the size of the wedding, group rates may also be available. Some of the top resort destinations also have dedicated wedding planners to help take away all the hard work of making all of the necessary arrangements. Many resorts also have reception facilities. When it comes to a honeymoon destination you need look no further. Superb locations are available for the wedding, the reception and the honeymoon. Resorts like Sea temple Resort, Thala Beach resort, Sheraton Mirage resort and many others have all the facilities you can imagine. Just offshore there are some other options and Lizard Island weddings are also recommended.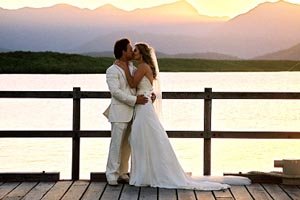 Some of the reception venues are truly special. Sassi's restaurant at Bale resort is quite sensational. Rydges Sabaya resort can provide every thing from a beautiful restaurant surrounded by a lily filled pond to a self contained function room with all the trimmings and also fully refurbished classy "top of the range" accommodation. There are many more things you will need such as Port Douglas wedding photography, so don't hesitate to contact us for assistance for your Port Douglas wedding.
Also see our pages for Whitsunday weddings and Hamilton Island Weddings.
Contact Us For All Of Your Travel & Holiday Needs.