Port Douglas is a fantastic place to take the kids for a holiday. The region abounds with natural attractions and activities that all kids love and kid friendly accommodation is full of self catering apartment style accommodation that is so popular with families. Add to that the great beaches, cool mountain streams for an afternoon swim and a quaint main street full of restaurants and cafes. There are animal and bird sanctuaries so the kids can get up close and personal with the local wild life and many fantastic places to go and tours to take.
Port Douglas is a popular jumping off point for trips to the Great Barrier Reef and nearby islands. A multitude of day trips leave the marina each day for reef, snorkelling and diving trips, as well as fishing or snorkelling tours. Any Australian kid will tell you that these are the sort of activities that they want to be involved in while on holidays. In the Port Douglas hinterland there are more special places to visit. The Daintree Rainforest north of Port Douglas is an easy day trip. Here the kids can experience one of the world's most pristine remnants of a tropical rain forest. Wildlife like cassowaries abound here and the Daintree river is a haven for estuarine crocodiles. Marine tours can take you along the river to visit them.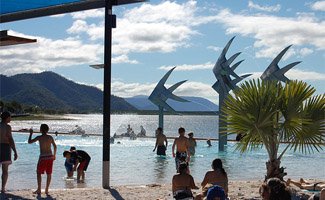 Close to Mossman and in the rainforest hills to its west, is the famous Mossman Gorge. Here you can bush walk through majestic forests or swim in the crystal clear and cold water of the river. It is a favourite picnic destination and has excellent facilities. This is one of the best family destinations in north Queensland, and the kids will love it.
There are often holiday specials and packages for Port Douglas, especially during the summer months.